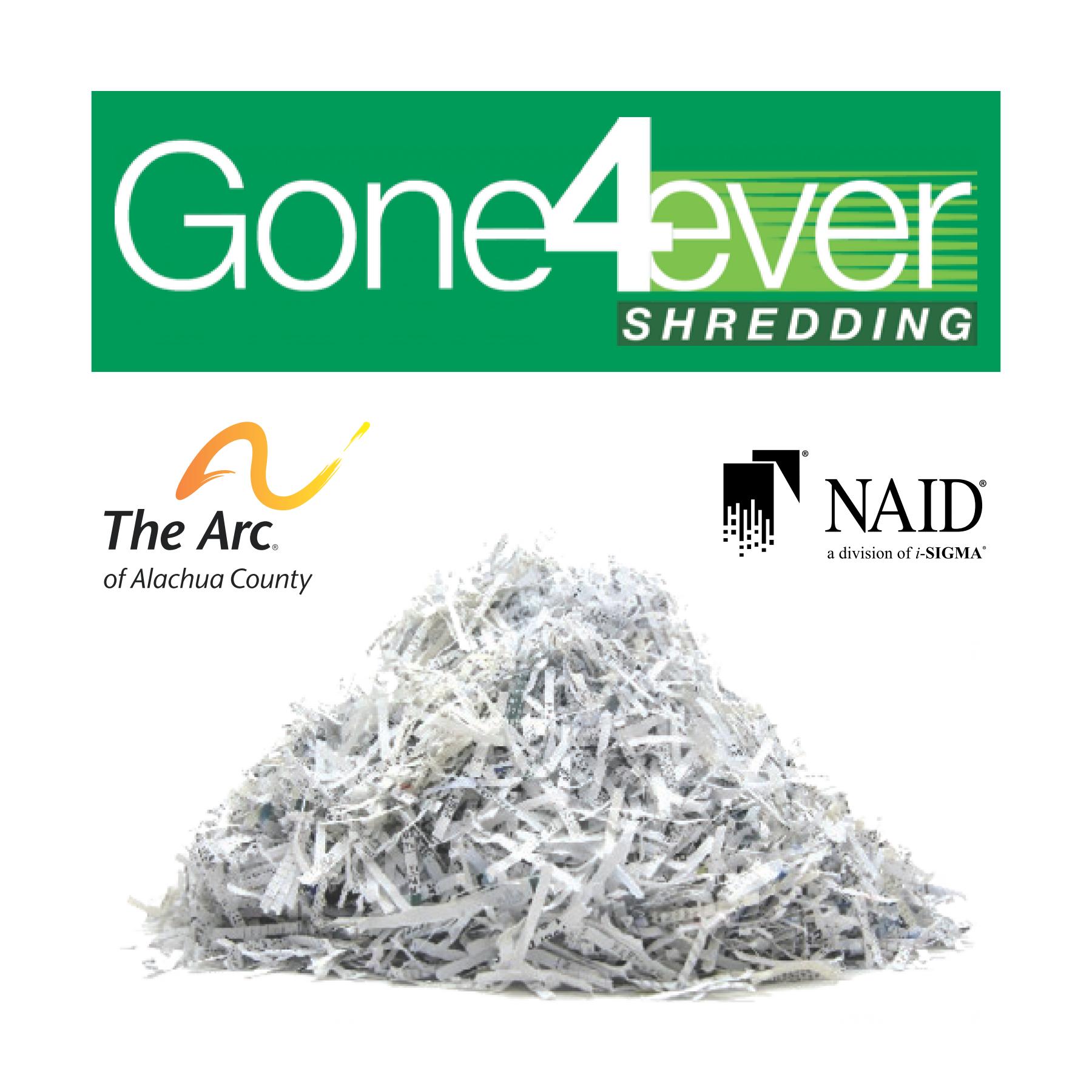 Due to the downturn in positive COVID-19 cases locally and at The Arc of Alachua County, and with the training of new leadership and staff to operate the Gone4Ever shredding team in light of the recent passing of Gone4Ever Supervisor Gerald Simmons, The Arc of Alachua County has begun regularly-scheduled shred pickups from our current, contracted G4E customers in Gainesville and Alachua County. All 40+ G4E customers now reside on a pickup calendar and have a specific day each month (or each quarter depending upon the frequency of pickup) upon which that organization's shredding will be picked up by our G4E shredding crew.
However, even though our Gone4Ever shredding crew is now active in the community picking up shredding from our contracted clients, The Arc's G4E shredding program still is not able to pick up shredding from residents or businesses in our community who do not currently have a contract with the Arc.
The Arc of Alachua County is pleased to announce that it is resuming its Wednesday shredding drop off at its main campus, across from Santa Fe College. Alachua County residents may, as of Wednesday, December 1, 2021, drop off their shredding from 9 a.m. until 3 p.m. at The Arc's main campus at 3303 NW 83rd St. The fee for shredding will be $0.32 per pound. Shredding for our friends in the community will be available only on Wednesdays each week from 9 a.m. until 3 p.m. The Arc will no longer be offering 'Free Shred Wednesdays' on the First Wednesdays of the Month, however.
Should any of our current G4E clients or any of our shredding customers require further clarification, please contact Dr. Mark A. Johnson at: mjohnson@arcalachua.org or 352-246-3516.
---
Contact Us
Send us your contact info and we'll happily tell you more about our services. No obligation for inquiring.
Rather talk?
Call us at 352.334.4060 during regular business hours.
Learn more about Gone4ever and recycling by visiting our main website here. Or return to The Arc of Alachua County's home page here. Thank you for your support and employment of the developmentally disabled that we hold so dear to our hearts.