Arc Client Safety Enhanced As Arc Employees Trained on Active Assailant Protocol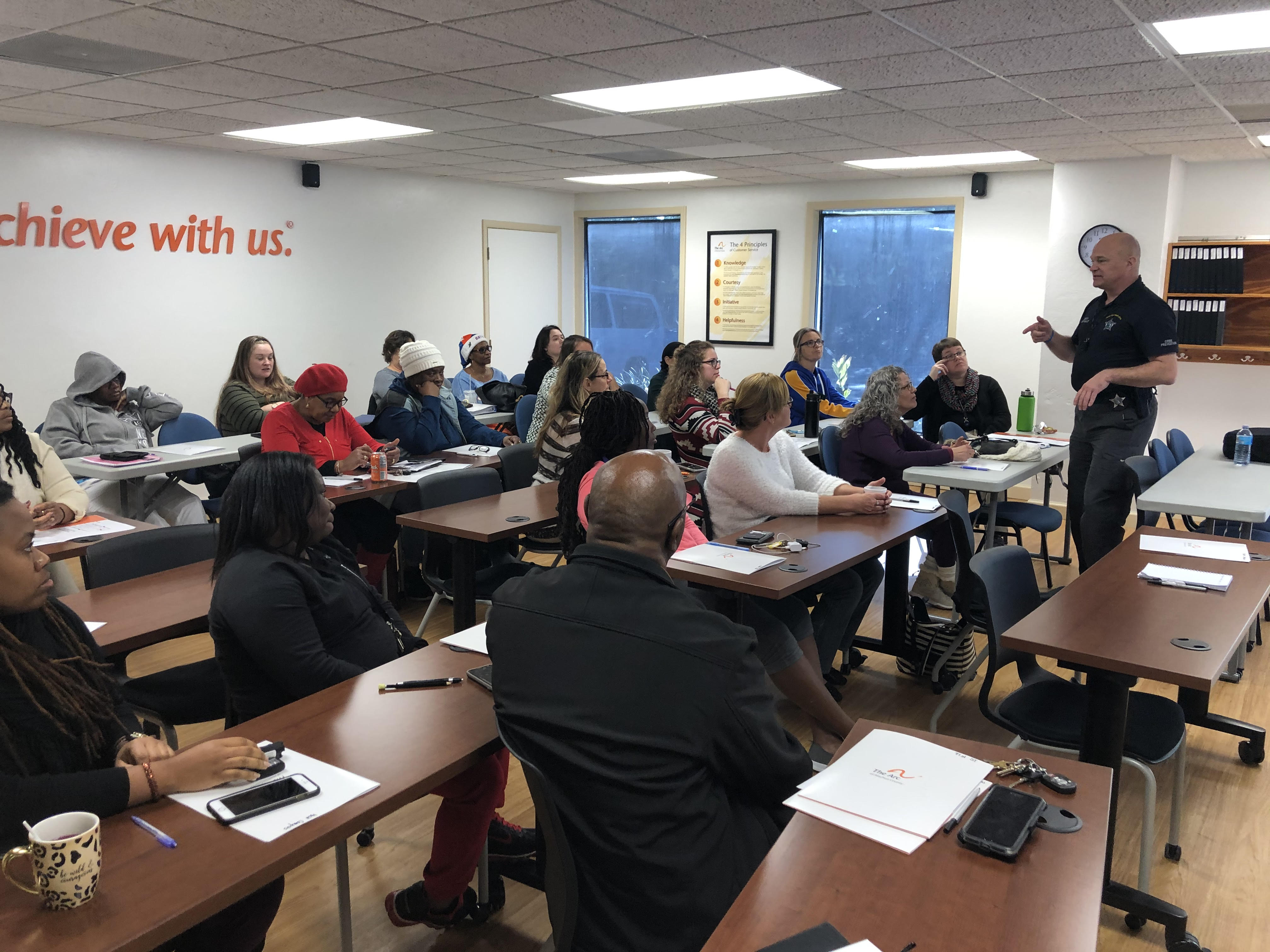 Arc Leadership Team members, supervisor, directors and group home managers received Active Assailant Training from certified trainer Deputy Cary Gallop with the Alachua County Sheriff's Office (ACSO). The first half of the training was devoted to learning how to spot potential assailants and how to react to protect our clients. Going through the various possible responses available to our staff in an Active Assailant scenario, Deputy Gallop shared examples of how to respond in one of three different ways: "Run" - "Hide" - "Fight." Arc employees asked a series of tough, pointed questions regarding how best to protect our clients, many of whom are not ambulatory or are not able to "run" or "walk quickly" to exit the building or group home. Deputy Gallop was very familiar with institutions, buildings and homes like The Arc's, and was able to discuss how best to protect the safety of our vulnerable clients.
The second part of the training included a variety of Active Shooter scenarios, played out for Arc staff. Arc employees had the opportunity to respond to shooter scenarios using responses from passive to aggressive. The more passive responses included evacuation of the group home or building, running away from the assailant, barricading the clients in a safe office; to more aggressive techniques like grabbing at the nose or muzzle of the assailant's gun, throwing objects at the assailant to distract him, or having a crowd of folks try to jump him if all else fails. At the end of the training, all attendees were provided maps to their individually-assigned group home, department, building or campus. Each map included details of their location along with the locked, secured doors noted in red. These maps will be posted at all Arc sites/locations. Moreover, all clients and employees will conduct drills on Active Assailant procedures specific to each site from now on based on Dep. Gallop's Active Assailant training.
Together with help from Deputy Gallop and the ACSO, The Arc of Alachua County is making all of its locations, buildings, homes and campuses, safer places for clients, employees, families, friends, and visitors. The Arc's Leadership Team is committed to making The Arc a safe environment for everyone. The Arc will ensure that, if we are ever in need of deploying this training, we are ready to use it and use it effectively in a way that best safeguards the safety and well-being of our clients and employees.
---
A message from Arc President/CEO Mark A. Swain on the Pandemic
During this COVID-19 Pandemic, The Arc of Alachua County has as its top priority maintaining the health and safety of our clients, employees, families and friends. I know that it can be challenging and frustrating reconciling adherence to the proper mitigation strategies with communication with your loved ones. Please know that The Arc is working overtime keeping all members of our family safe and well during this difficult time. I pledge to you that we will get through this pandemic together as long as we stay united, and treat each other with dignity and respect.
LiveScan Is LIVE Again!
The Arc of Alachua County's digital fingerprinting, screening and photo capture service known as LiveScan is resuming services on a limited, appointment-only basis. Beginning on Wednesday, August 26th - and continuing each and every Wednesday following that date - The Arc's LiveScan service will resume our fingerprinting and screening services at The Arc's main campus (3303 NW 83rd St., across from Santa Fe College)..
To keep The Arc's main campus safe for LiveScan staff and customers amidst COVID-19, we are accepting appointments for this service on Wednesdays only. We do not allow walk-ins at this time.
We ask that LiveScan customers remain in their cars until their appointment time. At your appointment time, The Arc receptionist will then greet you at the front entrance, take your temperature, and escort you into the building. Guests that arrive with customers must remain in the vehicle and will not be allowed into the building. All customers must wear a mask to enter the building.
So if you need fingerprinting done quickly, locally, and reasonably, please call The Arc at 352-334-4060 ext. 106 to schedule an appointment.
For more information about The Arc's LiveScan service, click on the LEARN MORE button below.
Learn More »